What They're Saying About The Bicycle Stand
"As someone who runs a business here in Long Beach, I have to come to expect the same experience and service that I put out into the world. Evan and Nicole epitomize this notion. Their attention to detail, enthusiastic service, and obvious pride for this city all make up just a fraction of why I like the Bicycle Stand."
- Patrick M.
"Sure I could've found a cheaper bike somewhere else, but the quality of service and dedication at The Bicycle Stand makes it worth every single penny."
- Joyce C.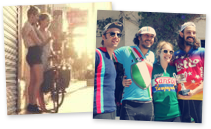 The Bicycle Stand hosts a monthly classic bike ride every last Saturday in Long Beach.
View Our Upcoming Events
Join our mailing list for updates about upcoming events, promotions, and more.