A Bicycle Story
Nicole and Evan opened The Bicycle Stand in 2011 because they just couldn't seem to put their bikes away. After countless nights meticulously refurbishing vintage bikes out of their living room as Netflix movies played in the background, they realized they needed more space (and that bicycles make terrible couches). The pair began searching for a proper workspace — and soon found it tucked inside a quaint storefront on Long Beach's Broadway business corridor.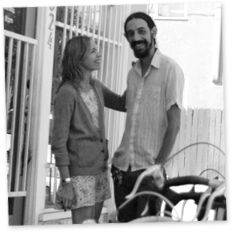 Longtime cyclists, Nicole and Evan envisioned The Bicycle Stand as equal parts lifestyle boutique and repair/restoration shop. Drawing inspiration from the passionate riders and collectors they had met while touring other bike-friendly cities together, Nicole and Evan looked to foster their own unique brand of two-wheeled revelry in their hometown.
Since launching, the store has become a hub for Long Beach's burgeoning vintage bike community, welcoming beginners and casual cyclists alongside daily commuters and dedicated collectors. With a reputation for stellar customer service and unparalleled, impeccably detailed craftsmanship, Nicole, Evan and their team remain enthusiastic about promoting cycling within their community.
Next time you're in the neighborhood, stop by and say hello! We can't wait to see where the road takes you.

The standard-bearer for what a bike shop should be. From the moment I walked into The Bicycle Stand, I felt welcomed and not talked down to. Everybody here is super helpful, informative, and just plain nice!
- Chris V.
What people are saying